Saint Luke 7: 11-17: Resurrection of a young man in Nain.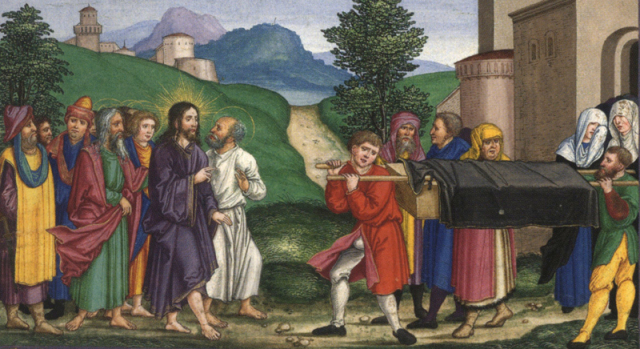 In today's Gospel he narrates the resurrection of the son of a widowed woman. Luke exclusive episode. Like the other two stories of resurrection that we read in the Gospels: Lazarus (Jn 11) and daughter of Jairus (Mt 9,18ff), today's miracle is also a sign that announces the resurrection of Jesus, Lord of life. This time the miraculous gesture of Jesus is for the widow of Nain. An episode that only Luke tells us and that presents a surprising parallel with the episode in which Elijah raises the son of the widow of Sarepta (1 R 17).
How many times is it seen in the Gospel that Jesus sympathizes with those who suffer and relieves them with his words, his gestures and his miracles! Today he cares for this poor woman, who, in addition to being a widow and helpless, has lost her only son. The reaction of the people to the prodigy is just: «a great prophet has arisen among us: God has visited her people.» The Risen One continues today, relieving those who suffer and raising the dead. He does so through his community, the Church, in a special way through his powerful Word and his sacraments of grace. God has us destined for life. Christ Jesus wants to continually communicate this life of yours to us.
The sacrament of Reconciliation, is it not the current application of the words of Jesus, «young man, I tell you, get up»? The Anointing of the Sick, is it not Jesus Christ  who draws near to the one who suffers, through his community, and gives him the relief and strength of his Spirit? The Eucharist, in which we receive his Body and Blood, is it not a guarantee of resurrection, as he promised us: «whoever eats me will live for me, as I live for the Father»? Today's scene also challenges us in the sense that we must act with others as Christ did. When we meet people who are suffering – because they are lonely, sick or in some way dead, and have had no luck in life – what is our reaction?
If we act like Jesus in the face of the pain of others, relieving and distributing hope, for example to the young («young man, get up»), the same reaction can also be heard as then: «indeed, God has visited his people». Charity makes us visible signs of Christ because it is the best language of the gospel, the language that everyone understands. Jesus also reminds us that the resurrection of the son of the life of Nain is a great sign of the liberation that Christ brings to all men.
Peace and good
Fr. Antonio Majeesh George Kallely, OFM